Written By

Felipe Bernardes

Last Updated

September 19, 2019
Pluralsight review, pricing and more (+ top-rated courses)

When it comes to online education, it's easy to get overwhelmed looking for the best place to learn something new. If you have already considered expanding your knowledge in technology-related subjects, it's best to find a specialized learning platform.
In this Pluralsight review, we will take a complete look at this tech and creative training platform and answer whether it is worth using it to learn new skills. Also, we'll draw a Pluralsight vs Udemy and a Pluralsight vs Treehouse comparison, so you'll get all the information you need to choose the right e-learning platform. Check it out!
Table of Content:
Pluralsight Review: What is Pluralsight?
Pluralsight was founded in 2004 by Aaron Skonnard, Keith Brown, Fritz Onion, and Bill Williams. The initial idea of the company was to offer face-to-face training to companies. Only in 2007 did they pivot the business and turned it into a distance training platform (with recorded video lessons).
In 2011, the company began to show exponential growth. It has become one of the best-known learning platforms on the market, ranking among the best companies to work for (in the small and medium-sized company category). In 2018, it went public on NASDAQ .
The company is headquartered in Utah, has over 1,400 employees and its classes are taught by over 1,500 expert authors. More than 70% of Fortune 500 companies have been trained on their platform and their territorial reach goes beyond 180 countries.
On Pluralsight, individuals and companies with a desire to learn tech skills can nurture and develop their careers, expand their knowledge and explore a wide range of courses.
They offer courses covering these major areas:
Pluralsight Free Trial is a great way to start learning on the platform. Pluralsight's pricing model is based on monthly or annual subscriptions (they don't offer single course payments, which is a bit disappointing, but we'll leave this subject to another post).F
How good is Pluralsight? 7 reasons why you should try it

While gathering information for this Pluralsight review, we visited a number of websites and came up with key insights to help you get a clear sense of what Pluralsight can offer.
1- Quality of the content
One point at which Pluralsight stands out from other platforms is the quality of their content. In this aspect, we are taking into consideration the care with the production of the classes. The images and audio are as clean and crisp as possible.
2- High level of information quality
Another critical point is that Pluralsight takes excellent care to ensure a high level of information quality. One differentiating key of this platform is its courses are reviewed for technical accuracy before they are launched. Also, Pluralsight classes feature content from some of the biggest names in the technology industry.
3- Good for beginners
Pluralsight courses are not easy, but even for beginners, it is entirely possible to take any class that they want. It takes some dedication and hard work, but in the end it definitely pays off. Pluralsight allows students to handle a steep learning curve, making them absorb a considerable amount of knowledge by adding a bit of a challenge to their classes.
4- Good for experts
You will never get bored if you are not a beginner. Pluralsight offers a 5-minute test assessment to check what level of competency you are at. This process allows learners to access a learning path catered to their existing skills.
5- Excellent place for IT/ tech professionals
This e-learning platform is an excellent place for IT/ tech professionals to explore new skills. If you are looking for in-depth content and continuously updated courses relating to Python, CSS, or Oracle, PluralSight will meet your expectations.
6- A platform with an excellent interface and user experience
Every course can be broken down into bite-sized modules, and students can also download videos for offline viewing. Another great feature are the interactive modules, where users can follow, for example, code lessons simultaneously with the instructor in real-time. So, the platform and the user experience are great.
7- Subscription model
With its subscription model, students have access to all the high-level content available. This is a winning combination that helps beginners become, for example, expert developers of new technology in a short period.
We found this interesting Review of Pluralsight on YouTube. Take a quick look at it:
Pluralsight vs Udemy
When comparing Pluralsight with Udemy, you can see notable differences. Udemy is a marketplace, therefore, everyone can create and publish a course on their platform. There is no curation by the company which means you can stumble upon low-quality classes. On the other hand, the courses created by Pluralsight are produced in-house, through a select team of experienced tutors. This difference has a direct impact on the amount of content offered by both sites. While Udemy offers nearly 100,000 courses, Pluralsight offers around 6,000.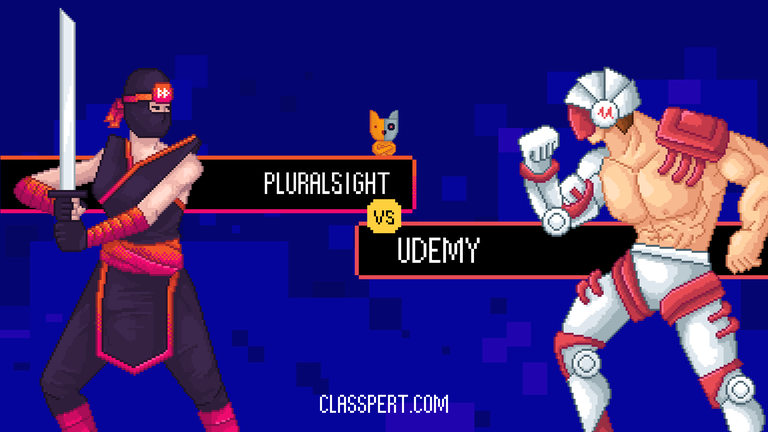 Another contrast between these two platforms is their pricing model. Udemy charges per course and usually offers very aggressive discounts. Pluralsight uses the subscription model which can be paid monthly or annually (with a free 10-day trial).
On Udemy, rules on how to create a course are pretty loose when compared to other e-learning platforms. For example, courses don't need to have a minimum duration, which means sometimes you'll find very short courses. This can be a good thing when you want to learn something fast (and take the best-rated courses). But it also fills the platform with low-quality courses.
On Pluralsight, the learning path is deeper and that may mean sometimes you'll have to study a subject that doesn't interest you so much. But this is part of the whole process of learning and will make you a complete master of the subject of interest.
Each platform has its pros and cons. For someone willing to learn very specific and easy-to-grasp content, Udemy may be a better option. While for someone who wants to fully master a set of subjects, Pluralsight seems to be the choice, not only because of their high-quality classes but also because their subscription gives you unlimited access to Pluralsight's whole catalog.
- Classpert's search engine helps you find tech courses from a wide variety of options. Take a look and select the class that makes the most sense to you -
If you have further questions regarding the Pluralsight vs Udemy comparison, this site can help.
Pluralsight vs Treehouse

Pluralsight and Treehouse can offer all students a path to learn top programming languages, and to join the tech world. Both offer beginner to advanced courses such as web development, mobile development, all of which are taught by a team of expert teachers.
As we said earlier, Pluralsight allows students to create progress through technology and develop skills that are highly demanded in the job market. But, in general, Treehouse is preferable for beginners.
It doesn't mean that advanced students cannot choose Treehouse, but when compared, courses offered by Pluralsight proved to be more top-notch.
For those who like tests after courses, it's essential to know that, just like Treehouse, Pluralsight has its achievement system, which encourages students to take classes seriously in order to perform better after finishing a particular lesson.
Pluralsight doesn't offer a gamified learning experience, while Treehouse has a reward system that gives you a badge and points after completion of the course.
Putting a light on the fee structure, the cost of Pluralsight and Treehouse is almost the same. Pluralsight ($29/mo) charges 4 dollars more than Treehouse ($25/mo).
So, which one should you pick?
Both options are great. But as we can't sit on the fence, Pluralsight stands firm for the ones who want to stay updated on recent technologies, and offers fantastic benefits even if you are a newbie in the IT/Tech world.
Pluralsight Review: What categories can I find on Pluralsight?

According to their website, you can find 10 different categories on Pluralsight. They differentiate between Paths (a set of courses for a given formation) and single courses. Here's a list of their main courses and paths within each category:
Software Development
Paths:
Best Pluralsight courses:
IT Ops
Paths:
Best Pluralsight courses:
Data Professionals
Paths:
Best Pluralsight courses:
Architecture and Construction
Paths:
Best Pluralsight courses:
Manufacturing and Design
Paths:
Best Pluralsight courses:
Cloud Computing
Paths:
Best Pluralsight courses:
Machine Learning / AI
Paths:
Best Pluralsight courses:
Business Professionals
Paths:
Best Pluralsight courses:
Information & Cyber Security
Paths:
Best Pluralsight courses:
Creative Professional
Paths:
Best Pluralsight courses:
Pluralsight Review: Pluralsight Authors

Pluralsight courses are known for the quality of their instructors. Below we highlight some authors with high-rated courses. They are:
Carlos Gutierrez
Carlos Gutierrez is an experienced Software Engineer with extensive knowledge of data analysis and application development for technical collaboration and decision making. He teaches a Pluralsight course called Charting Data with Excel. Carlos Gutierrez utilizes SQL Server, .NET Framework, WPF, UWP, Office 365, R and Azure to produce end-to-end solutions for a fast-moving industry.
Alex Wolf
Alex Wolf has a bachelor's degree in Business and a Minor in Programming. He also holds two Microsoft Certified Professional certifications in MVC and Javascript and is an Adobe Certified Expert in After Effects. Alex has several years of experience working almost exclusively with .NET platforms. He teaches 13 Pluralsight courses (with an average Pluralsight course rating of 4.5 stars). Among the courses he teaches are: Visual Studio 2019, Razor Pages in ASP.NET Core: Getting Started, and Android: Getting Started with Retrofit.
Jim Wilson
Jim Wilson is an experienced software engineer (more than 30 years working in the field). Over the last 15 years, he has been mainly devoted to creating mobile device and location-based solutions. Jim now focuses on developing Android and iOS device applications. He loves teaching about software development, and on Pluralsight he teaches 25 different courses (with an average Pluralsight course rating of 4.5 stars). Among the courses he teaches are Working with Android Tools and Testing, Understanding Android Application Basics, Android Apps with Kotlin, Java Fundamentals and Creating a Google Glass App.
Jonathan Mills
Jonathan Mills is a senior advisor within the Chief Digital Advisor Group's Digital in the Technology team. He works as a trusted consultant with corporate executives at many of the world's largest brands and Fortune 500 companies. He is also a Microsoft MVP and is a regular speaker and keynote presenter at conferences around the globe. As a Pluralsight Author, Jon produces classes about JavaScript, Python, Node.js and Cloud technologies. He teaches 10 different courses on Pluralsight (with an average Pluralsight course rating of 4.5 stars), among them, you can find: JavaScript Best Practices, Advanced AngularJS Workflows, Securing Your Application with OAuth and Passport, and Build Web Applications with Node.js and Express 4.0.
Mark Zamoyta
Mark Zamoyta has a Bachelor of Science in Computer Science from St. Johns University. He developed numerous mobile apps and games for well-known clients including Electronic Arts and Yahoo! Games. Some of his popular mobile titles include Yahtzee, Yahoo! Chess, and Yahoo! Poker. In addition, he founded Expansion Learning, a K-12 educational software company and is also a Pluralsight course author, focusing on JavaScript and Angular technologies. Mark teaches 14 courses on Pluralsight (with an average Pluralsight course rating of 4.5 stars). Some of the courses Mark Zamoyta teaches are Angular Forms, JavaScript Fundamentals, Rapid Angular Training, Responsive Websites With Bootstrap 3, and Google Glass First Look.
Prashant Pandey
Prashant Pandey is a certified ISO 27001:2013 Lead Auditor and has tested over 100 web and mobile applications. His areas of knowledge are Cyber Security, Ethical Hacking, VAPT and Security Consultancy. He teaches a Pluralsight course called Developing and Implementing Vulnerability Management Programs.
You can also find these authors on Pluralsight:
See all Pluralsight Authors' profiles here.
Pluralsight Review: Pluralsight certificates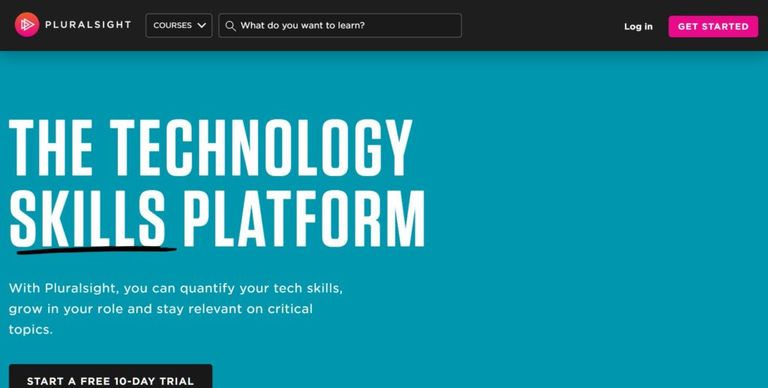 As we mentioned before, Pluralsight has a great reputation with multiple well-known companies as clients using the platform to train their employees. But, Pluralsight is not an accredited educational institution. This means most universities won't accept their certificates as college credits, but potential employers may value your effort to complete Pluralsight's courses.
From the job market standpoint, companies look for professionals and potential candidates who are technically qualified and ready to meet the different demands of daily work. Traditional diplomas don't always have this guarantee. MOOC certificates like Pluralsight are increasingly being used as evidence of these skills in the recruitment process. This way employers have a clear picture of the applicant's skills and commitment.
Although Plurasight is not an accredited educational institution, they are authorized to help you get prepared for some continuing education programs, like:
CompTIA: For professionals interested in troubleshooting and problem solving a wide variety of issues, ranging from networking and operating systems to mobile devices and security. Pluralsight offers designated courses to count towards their CEU (continuing education credits) program.
PMI: The Project Management Institute conducts the PMP exam, an internationally recognized professional designation for project managers. Pluralsight offers material that counts towards their PDU (Personal Development Units) programs.
ITIL: ITIL is a body of knowledge and best practices for successful IT Service Management. Pluralsight courses count towards ITIL certification.
ISACA: The Information Systems Audit and Control Association is an independent, nonprofit, global association that engages in the development, adoption, and use of globally accepted information system (IS) knowledge and practices. Pluralsight courses are accepted toward their CPE credits by submitting certificates of completion.
Pluralsight Review: Pricing model
Pluralsight offers a 10-day free trial period so you can get a small taste of the type of courses they offer and the quality of their classes. At the end of this period, there are a few different payment possibilities.
If the idea is to make a personal plan, you can opt for the monthly subscription that costs $29 and is billed monthly. If you prefer or can pay at once, Pluralsight gives you a 15% discount on the annual plan - it costs $ 299.
Once you subscribe to Pluralsight, you can access their full catalog of courses, all learning paths, self-paced quizzes, course discussions, exercise files, mobile and tv apps, offline viewing and more.
In addition to the annual plan, they also offer the Premium plan. This is also a $ 349 one-time payment option for annual access. This plan adds certification practice exams for industry-leading practice exams (such as PMP, CompTIA and others), interactive courses (with coding challenges and guided feedback), and projects (real-world scenarios to practice your skills).
For businesses, the Pluralsight pricing model has 2 possibilities. The first one is called Professional, it costs $579 per user and is billed annually. This plan gives access to basic analytics for tracking course progress. This is more of a non-customizable model, there is no option to adapt it to the company's demands.
The second option for companies is called Enterprise. This plan costs $779 per user and is also billed annually. This is their flexible and customized solution. The analytics are advanced, they add Q&A's, the company is granted with a unique and easy access to manage employees' performance in training, a unique API for tracking course progress in almost real-time and the possibility to export data and generate reports.
Is Pluralsight worth it?

At Pluralsight, people get an excellent opportunity to dive into a unique technology study to develop highly demanded skills..
There are other options in the market, but Pluralsight has become one of the best online training platforms as they provide high-quality education on a wide variety of topics.
If you're looking to expand your current skill set or start a new career, Pluralsight is a great option for self-paced learning.
Is Pluralsight Premium worth it?
Aside from their usual subscription plans, Pluralsight also offers Premium subscriptions that come with extra features.
Pluralsight Premium is worth it if a learner is dedicated to improving skills, especially if you are looking to land a job using the skills taught in Pluralsight.
Pluralsight rating: what do people say about Pluralsight courses?
Trustradius
Score: 8.3 out of 10
Trustpilot
Score: 3.8 out of 5
Capterra
Score: 4.7 out of 5
Bit Degree
Score: 8.3 out of 10
Pros and Cons according to verified users:
Pros
+ Large variety of courses;
+ Offering of learning paths;
+ Instructors are top-notch;

Cons

- Too many topics can sometimes be a bad thing;
- Many times courses are a bit long;
- They don't offer courses on social media.
Overall comments according to verified users:
It's interesting to notice how grateful students are for learning on Pluralsight. Statements like "Pluralsight saved my life several times" "I found so much information to solve problems at my job" are pretty common among users. Pluralsight is also known as a place where learners find the learn-by-doing mindset.
Want to find some stimulating courses on Pluralsight? Classpert's online course search engine will help you discover new classes.
Let us know your thoughts about this Pluralsight review. If you have already taken one (or more) of their courses or paths, feel free to share your experience with us.
Interested in learning more about other platforms? Check out these reviews:

I am an economist responsible for Marketing and SEO strategies at Classpert. I usually write about entrepreneurship, e-learning platforms, marketing, SEO, stock trading, and related subjects.