Meet our Alumni
Check out what our students have to say about us

Suzanne Warr
The Art of Writing for Video Games - Cohort 2
I would say I felt my return on the investment was about 500 fold what I expected. Honestly, the class really just blew me out of the water with how helpful it was and how much I learned. And the cherry on top is this awesome cohort!

Jesse Rhew
Making Embedded Systems - Cohort 2
One of the many benefits of this course was learning directly from the author of the book. That was absolutely incredible, Elecia's a genius at this. And the TAs went above and beyond to help us out. Any time I had a question, another student wanted to jump in and help put our heads together and try to figure it out and if we weren't figuring it out, we knew a TA was monitoring the conversation and wanted to jump in and help us out.
And it was really great to be able to talk to people who were just learning the topic and people who were already very advanced at this working in a professional setting and just wanted to take their skills to the next level. So the range of classmates that I was working with really I think benefited the experience.
Sarah Chernik
The Art of Writing for Video Games - Cohort 1
I found that not only was I learning from the author's themselves, I was learning from the other students with everyone's different backgrounds.
We literally had students from all over the world. It really gave a lot of insights into different ways to be creative different kinds of games that you could make.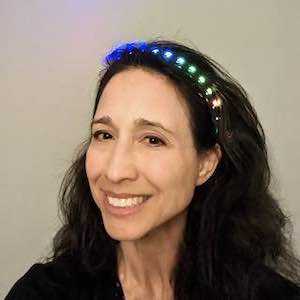 Debra Ansell
Making Embedded Systems - Cohort 1
In addition to the lectures, when we had weekly meetings and broke into discussion groups. I learned a lot from the other participants in my cohort, listening to the questions in the discussion groups, reading the questions in the channel.
For me in particular, when I found a topic challenging, it was really helpful that other people would say "Yeah, I find this tough too". That was encouraging. It was a nice learning environment. I learned a lot from the other people. As well as the lectures and the homework.
And I'm really pretty impressed with the progress I made and how much I was able to use material I was learning in building my final project. So all together, those elements of the class provided a really motivating and helpful synergy to tackle what is not an easy topic, but I learned a ton and really enjoy the process, the classmates are great.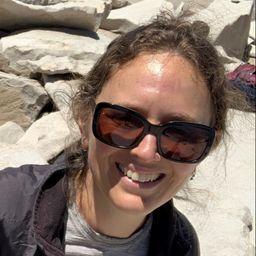 Carrie Sundra
Making Embedded Systems - Cohort 2
I've never had the opportunity to learn in the context of working for a company, having a project, mentors, a framework. So when I saw Elecia was teaching a class and that there would be a live component to it, I was like "Oh man, this is the perfect opportunity for me to actually learn in a structured environment, from somebody who's been writing embedded software for over 20 years". And there's just really nothing like it, there aren't many classes specifically in embedded software which is really different.
The course was everything that I hoped for, I got to ask all of my obscure questions I have been wondering for a while. We got into compilers, optimization, there was lot of stuff about C syntax, style, conventions that I never knew and it was just this rare opportunity to get to nerd out with a ton of other people to ask all of your software questions that I have been collecting over the years. There's Stack Exchange but you never know who's answering the questions.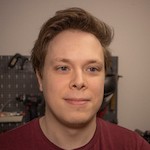 Timon Skerutsch
Making Embedded Systems - Cohort 1
The course, was very, very mixed. There are some people who are just starting out. Some people have been industry professionals for decades. And it was a great thing because there was a lot of exchange between these people and everyone could kind of learn from each other. All in all, I enjoyed it a lot. I learned a lot from the students, I learned a lot from the mentors. And of course, from Elecia.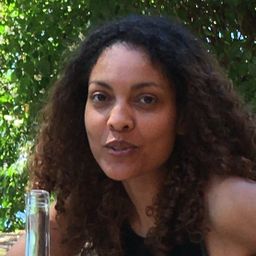 Aissata Maiga
Making Embedded Systems - Cohort 2
I am working as an embedded software engineer in parallel with my studies. I got interested in embedded systems in 2019 and started side projects. At the exception of this one and only class, my knowledge was never formalised. When I read that Elecia White was giving a class, I asked to join.
I developed many valuable skills, for example visualising data with a logic analyser (it was a big deal for me!). And mostly, navigating libraries of STM32, and their documentation. This is an essential skill that I will need to practice more, but the head start is priceless.
It was extremely valuable to learn directly from El. She is of course very competent but nobody tells you she is fun to hang out with! The atmosphere of the class was very open and everybody was willing to cooperate and help each other out. It is a great community to be with.
I highly recommend this class for anyone in need of structure and formalising knowledge that they picked on their journey, and who want to just hang out with other people to share a passion.
Leonardo Sewald
The Art of Writing for Video Games - Cohort 2
As someone with a business-oriented background coming from outside the games industry, I thought the course not only helped me hone my creative writing skills but it also gave me valuable insight about what goes on inside the industry. The staff are knowledgeable and experienced, and the interactions with everyone else during the course make for amazing networking opportunities. All in all, it's a great experience, one that I'd definitely recommend, either for experienced writers as well as for aspiring industry professionals.
Noel Simsiman
The Art of Writing for Video Games - Cohort 2
My name is Noel, and I'm currently a Software Project Manager at Full Sail University. As a former Producer working with different indie studio teams, I want to understand how various team members work.
I decided to try The Art of Writing for Video Games because I wanted to understand better the challenges that narrative designers and writers face when developing a game. Not only did I better understand their challenges, but I also developed a creative process helping me develop my ideas.
Since completing the program, I refined a previous game idea using my creative process and am looking forward to further developing it. In this course, the instructors teach practical concepts to strengthen my game development career and create real-world scenarios to apply the concepts learned. I learned a lot in this course without having a background in creative writing.
I recommend this course to anyone willing to learn how to develop their creative process and cultivate game ideas that anyone could pitch to studios worldwide.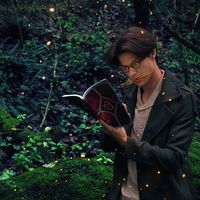 Jaron Johnson
The Art of Writing for Video Games - Cohort 2
My name is Jaron, and I'm a creative director for a tabletop design company. I'm a project manager by day and a tabletop game designer by night, which provides me some really handy skills for a hopeful career in video game design!
When I saw this course, I wanted to learn from folks who were already in the industry about what it was like behind closed doors. I was hoping to pick up some helpful templates and learn what structures and systems people are using in the industry, so I could apply them to my own workflow.
That's exactly what I got from the course! I learned a lot about worldbuilding from the ground up; characters, levels, cinematics, all contributing to a central game narrative. Picking up systems for developing interesting and engaging characters and cutscenes are going to help me put it all together in the end.
Learning directly from the author was definitely helpful. A lot of what we learned was content that we could not have possibly picked up from the book alone. I loved hearing both Flint and JZP riff off of one another during the course, and getting feedback directly from Flint in our feedback sessions was very helpful to know if I was on the right track or not.
If you're a person who wants to take your game narrative skills to the next level, who wants to learn some systems that are really used in the industry, and to walk away with helpful templates and new connections with like-minded people, this course is absolutely for you!